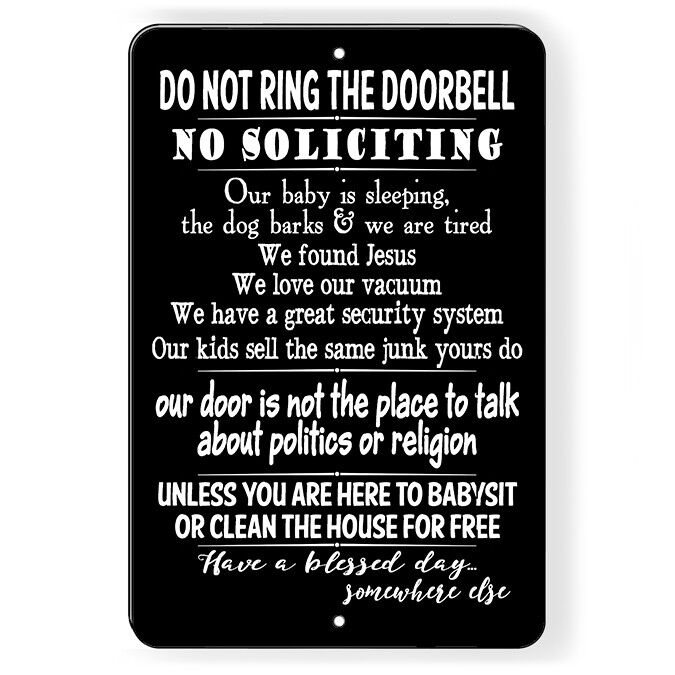 Ding dong! .... Ding dong! ..... 
Knock, knock, knock. ...... Knock, knock, knock!
"Hi my name is Solicit, and I'm with any company you can think that won't stop until you agree. 
How are you doing today?"
"Oh, I'm fine and you?"
"I'm doing well, thank you! The going rate for "Any Company" is expanding by the day. 
I see you already have this service but may I offer 
this service to you? I know you will love it!"
"No, thank you! I don't wish to change anything at this time."
"Sir/Ma'am, does your service render high quality?"
"No, thank you! I don't desire to change my service at this time."
"You can receive better value with this new and improved service. 
May I offer you this low priced high quality service? 
I can even throw in this upgrade for free."
" .....(silence with a stare)....."
"I know what I have can really better your situation. 
Allow me to go over this program. 
It will only take 5 minutes of your time."
........
This is a great place to stop the above dialog! You've ran into this type of situation when a solicitor was persisting to get you to buy, change (upgrade) something, listen to their pitch. OMG!! I realize their job is to sale! Many make money off commission. HOWEVER — when I say "No, thank you!" shouldn't that be the end of discussion?
This situation is too funny to me. My niece was approached by a solicitor for an alarm service. She currently stays with my parents and explained to "Mr. Solicit" that they already had a great security package. She said it messed up the rest of her day because the guy refused no for an answer. A couple of hours later my Mom came home and "Mr. Solicit" was there to greet her. Was he hiding in the bushes waiting for one of my parents to come home so he could do that "sneak attack?" (lol) My niece had me laughing until my stomach hurt. Like, "Dude, didn't I tell you the first time they didn't need any service? Now, you're stopping my grandma for the same stuff." Incredible. LMBO
What should you do when it happens? In my Mom and niece's case they were both arriving home when "Mr. Solicit" stopped them. Should they have ran? LOL. What would you do when a person is trying to trap you at your home? I'm gonna love to read your responses lol.